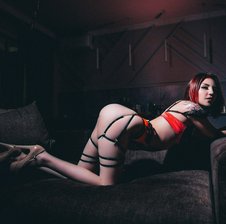 Passordbeskyttede gallerier










Viktige detaljer for
Ossirin
| | |
| --- | --- |
| Kjønn | Kvinne |
| Interessert i | Kvinne, Menn |
| Alder | 22 |
| Høyde | 175 cm - 185 cm (5'10" - 6') |
| Vekt | 45 - 55 kg (100 - 120 lbs) |
| Hår | Rødtopp |
| Øyne | Grønn |
| Etnisitet | Hvit/Kaukasisk |
| Språk | Engelsk |
| Hjemby | Kiev |
| Kjønnshår | Trimma |
| Byste | Liten |
| Rumpe | Mellomstore |
I love kind, fair, generosity and those who keep their word. I love it when people treat each other with respect, therefore i ask to be understanding and patient.
All my features are described in the menu, you can pay and enjoy. I will also ask everyone who is in my room to be active and sociable with others.
My name is Liza, i am 23 years old (birthday is Jan 31 if you are interested). According to the zodiac sign Aquarius. I was born and raised in Europe, my parents are of different nations (i am mixed). My height 1.70.
I know that i look very attractive and sexy,
Hva som absolutt ikke tenner meg
Please don't ask anything do for free. Just like you, i am on the site for a reason. Everyone has their goals. You must understand - this is my earn money for treatment and health support.
Hva jeg gjør på webkamera:
Amatørklipp av Ossirin

111 polletter
1:45

122 polletter
5:15

101 polletter
15:00

112 polletter
3:37

188 polletter
25:28

77 polletter
3:15

245 polletter
5:28

125 polletter
5:27

221 polletter
5:27

115 polletter
6:44

333 polletter
6:37

177 polletter
2:00

99 polletter
2:16

111 polletter
2:28

225 polletter
16:31

175 polletter
13:02

222 polletter
8:20
1

On of the reasons for working here is that i am saving money for my treatment. As few people have already noticed, sometimes i am overcome by weakness and i become less active. This is all due to some health complications. This lethargy and feeling unwell sometimes comes of nowhere... If you only knew how tired i am of this desease... I just know how to hide it from people :) I hope you understand this and support me in my achieving this goal..
Les mer